My Bucket-list Blog - Turkey #1 (Part 1 of 3)
Turkey!
How could it not be a bucket-list destination? If you like to experience a bit of culture, history and beautiful crystal clear beach's & luxury resorts than this is certainly one you cannot go past (particularly given the exchange rate atm, 1 Turkish Lira is only 0.36 AUD).
Yes, I have visited Turkey before and its one of my favourite destinations to date and I am lucky that my husband is Turkish which made for a far more authentic experience. Make sure you read right the way through for my hotel recommendations and don't forget to stay tuned for parts 2 & 3!
We visited Turkey for just over 3 weeks which was just not enough for me personally. I'd love to explore the entire Aegean Coast of Turkey, there are just some magnificent beach destinations and you can also come across some great historical and ruins sites along the way. One thing I will recommend upfront; if you are visiting multiple destinations (I hope you are) you are most likely to fly into Istanbul International Airport (Ataturk). However, I would recommend checking to see what your schedule will look like flying into Sabiha Gokcen International (SAW), that's if you are not going to Istanbul first as it could be a more cost effective option. For us it was much easier to take domestic flights from SAW via Pegasus Air. Flights do not operate from particular domestic airports as often, which is why its important to have some kind of schedule planned. Some destinations only fly in/ out twice a week depending on where you go. It was like that for us when we were looking at flying to Kayseri (Cappaddocia).
So where in Turkey have I visited?
Istanbul was just amazing!! It's a very busy city so this could be the place to visit towards the end of your trip as there are many, many people and I particularly found it overwhelming at times. Istanbul has an old city and a new city – we stayed in the old city because there are far more historical sites to visit and more things to do. The tourist activities are not really that expensive so I would recommend seeing as much as you can, its all very well worth it. Here are some pictures of the places we visited in Istanbul;
Hagia Sophia Mosque Istanbul.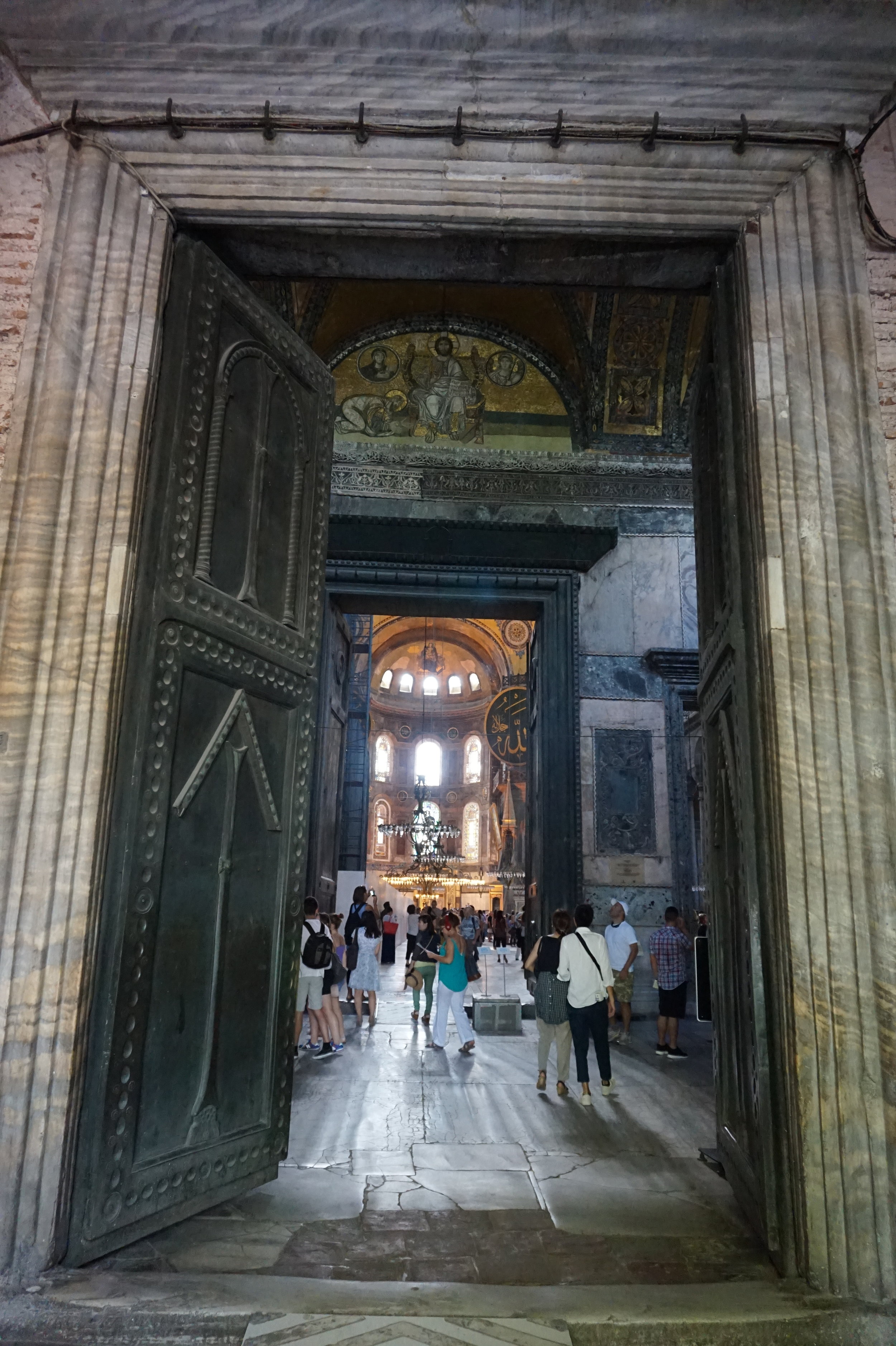 The Blue Mosque, Istanbul (Below). The artwork in here is seriously beautiful! And yes, that's me wearing the Hijab, this is a must if you want to enter! The locals still do come here to prayer so you will be able experience this beauty in its true authentic version.
Bosphorus Cruise, Istanbul. Make sure you wear ear plugs - The boat horns are so LOUD! :)
Basilica Cistern, Istanbul. This is the underwater systems that has been used for hundreds of years. It's just amazing and makes for some great shots!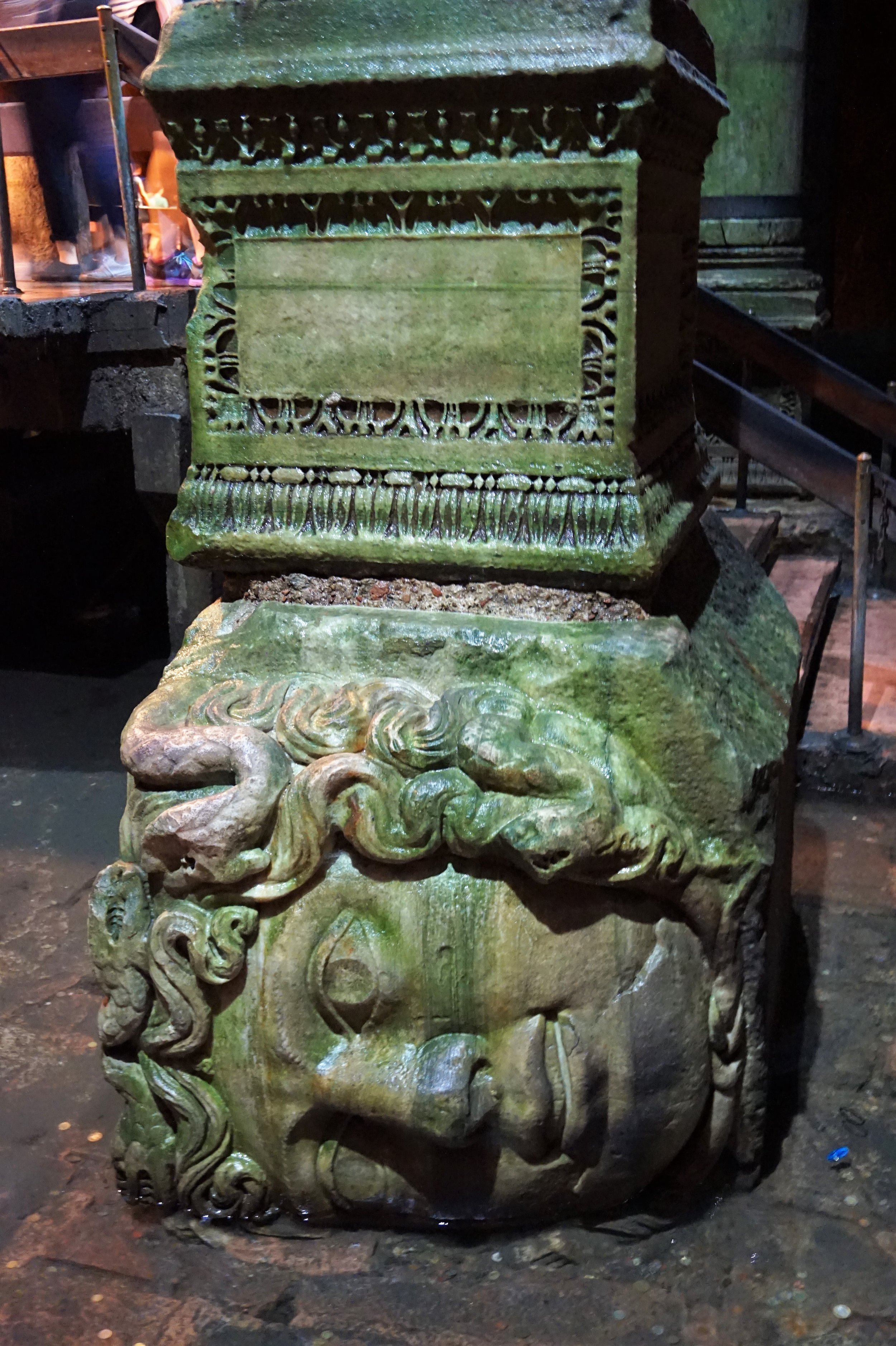 Medusa's head forming the bottom end of a pillar supporting the underground structure - there are 3 of these all positioned differently and were relocated here from another building from the late Roman period.
Parts of Istanbul Old City, Taksim and Grand Bazaar.
We also visited the Topkapi Palace Istanbul, however have limited pictures to share as visitors are not allowed to take photo's inside. Topkapi Palace was the main residence and headquarters of the Ottoman Sultans and the palace now as a museum showcases all of the ancient weaponry, Arms and Armour, art, jewelry, heirlooms and money.
There are some beautiful gardens surrounding the palace and it was really nice to sit with some Baklava and tea, people watching and taking in the beauty. :) Drinking tea is a huge part of Turkish culture too so get involved! I can't tell you how many tea sets my mother in law has gifted me, it's a big social thing to do (typing as I drink from my tea cup :P ).
There are some beautiful hotels in Istanbul's Old City, we stayed closer to where the Hagia Sophia & Blue Mosque's are located. The customer service in Istanbul is impeccable, the people are so welcoming and lovely and the hotel staff went above and beyond for us, assisting us with advice on where to go and what to do. I wanted to have a true "Sultan" experience so we stayed at a boutique Hotel called Hotel Sultania, a 5 star hotel with suites, spa, and Hammam and very romantic for couples - you have to try the Hammam in Turkey! Traditional Turkish Delight awaits in your room; your room with fine finishes, plush linen and beautiful artwork. Just an arm-stretch across the lane sits an authentic Turkish cuisine restaurant with a delicious selection. There is also a rooftop restaurant at Hotel Sultania with stunning dining views of Hagia Sophia Mosque. Click here to be directed to Hotel Sultania or take a look at the Youtube video below. :)
Istanbul is a place that I will definitely go back to and when I do I will look at staying at one of the 5 star hotels on the Bosphorus, if you can splash out a little I would highly recommend looking into this. It is still very centrally located, but will offer you with stunning views of the Bosphorus - its very pretty at night too, particularly if you can get a good view of the Bosphorus Bridge.
Shortlisting is what I do for a living, so I have done some of the ground work for you to make some recommendations on what I would choose based on; 5 star hotel, high customer review ratings, room service, restaurant & bar, spa, pool, suites and rooftop/ pool viewing. Also before I forget to mention it; most if not ALL hotels will include a complimentary buffet breakfast. My choices are;
1. Four Seasons Istanbul at the Bosphorus Click here
2. Ciragan Palace Kempinski Istanbul Click here (Select English in top RH corner)
3. Swissotel The Bosphorus Click Here
Either of these hotels would give you an ultimately luxurious experience and the service would be second to none.
NEXT UP IS........ CAPPADOCIA!
Absolutely my FAVE place in Turkey. It is just a 1.5 hour flight from SAW airport to Kayseri and then about another hours drive to Goreme, Cappadocia located in the Anatolia region. This breath-taking place is famed for its oddly shaped sand stone coloured "Fairy Chimneys" (formed from volcanic ash and lived in by humans) and those breathtaking views from the Hot Air Balloons. Understanding the history and the beauty of this place is a once in a lifetime experience, its honestly remarkable. Century after century Cappadocia has seen the area raided by many European empire builders such as the Persians, Alexander the Great, the Romans, the Byzantines, and the Ottomans. Finally the Christians fled to Goreme duing the Roman Period settling and making homes out of the Fairy Chimneys. Today you can still see how they lived in their homes along with the carved out churches and artworks that still remain. Today the Turkish people still live in the Fairy Chimneys.

We stayed here for 2 nights only, however I would recommend up to 4. I will certainly be venturing back to this magnificent part of the world for another Hot Air Balloon ride - the views are to die for! You can also do day trips to other historical sites, we visited the Kaymakli Underground City which was a further eye opener into how the Christians lived in hiding from the Muslim Arabs during the Byzantine Era. Just make sure you wear comfy shoes and be prepared to be bending over for most of the tour because the caves are very narrow and small.
In Cappadocia we stayed at the Sultan Cave Suites in Goreme, Cappadocia. It's a 4 star hotel with views over Goreme and words just can not describe how beautiful it is taking in the views whilst listening to the call of prayer echoing from one side of the town to the other (a very warming experience). Sultan Cave Suites is also a great spot for viewing all the Hot Air Balloons firing up at 4:00 am in the morning; they look like fairy lights lighting up and flickering in the sky. Just beautiful. :) Sultan Cave Suites also have a beautiful large dining terrace in the open with great views - this place is inspiring! A lot of people come here to experience this special space. Click here to be directed to Sultan Cave Suites.......
Goreme, Cappadocia.
Ok, so that's part 1 of the blog. In the next blog "My Bucket-list Blog Turkey #1 (Part 2 of 3)" I will be sharing some pretty special places in the West towards the Aegean Coast along with historical sites that I am sure you would have heard of or seen pictures of before. Turkey is a HUGE place with many things to see so I am not going to try and cover this in 1 blog!
Thanks for tuning in guys!!
Best, Mrs Tepe.